December is all about Christmas, New Year, festive vibes and everything fun!
But, December is also about chilly winters. (Especially in Canada!)
Heavy snow, sleet, ice and wind can cause frequent power outages or winter electrical emergency.
Also, during winters as more people stay inside the electrical consumption increases, and similarly the chances of electricity failures increases. (And that's why most electrical emergencies happen)
On the other side, power can go out at any time, with the interruptions lasting for anything between a few hours and several days.
So, we have listed important tips to prepare for a winter power outage.
Before the Power Outage
#Tip 1 Get some pre-winter home maintenance done
Preparing your house before winter is generally also called WINTERIZING your home. However, it is the most important thing to do and hence it is the first tip for the winter electrical emergency survival.
You can implement these actions to winterize your home in advance:
Install a non-electric standby stove or heater. Choose heating units that are not dependent on an electric motor, electric fan, or some other electric device to function. It is important to adequately vent the stove or heater with the type of chimney flue specified for it. Never connect two heating units to the same chimney flue at the same time.
If you have a wood-burning fireplace, have the chimney cleaned every fall in preparation for use and to eliminate creosote build-up which could ignite and cause a chimney fire.
If the standby heating unit will use the normal house oil or gas supply, have it connected with shut-off valves by a certified tradesperson.
Before considering the use of an emergency generator during a power outage, check with furnace, appliance and lighting fixture dealers or manufacturers regarding power requirements and proper operating procedures.
#Tip 2 Have a pre-made emergency-preparedness kits
Make a personalized preparedness emergency kit. Families should be prepared to be self-sustaining for at least three days.
Kits should include practical items such as drinking water, food, cash, and a portable radio. However, they should also include items that are unique to your own families' needs. This could include baby items, medical prescriptions, pet food, etc.
If you have already dipped into your emergency kit and food supply while staying at home, consider safely getting the supplies to replenish it following your local public health authorities' guidelines for leaving your residence.
During the COVID-19 pandemic also add hygiene items such as hand sanitizer and non-medical masks to your kit to keep your family safe during an evacuation.
Plan for persons with functional needs such as essential medical equipment or mobility issues. Consider how they may be affected in a power outage – for example, if you are without elevator service.
Know where municipality shelters are located.
Protect all your sensitive electrical appliances with a surge-protecting power bar.
#Tip 3 Keep your electronics charged
Imagine, that it is a power outage and the mobile phones of all your family members run out of battery, and you are not able to contact anyone! Such a nightmare it would be.
To avoid such nightmares to happen and haunt in real life, you must have flashlights or lanterns handy to be able to see at night. Battery-powered or crank radios can help you stay informed about emergency efforts in your area.
Make sure you have all the batteries you need to power your electric winter storm necessities. And don't forget to keep your phone charged ahead of a winter storm. You can also get portable chargers, or power banks, which you can have ready in case of an outage.
During the Power Outage
#Tip 4 Have a well-organized evacuation plan
One of the smartest moves in the survival guide is to be prepared for the worst. When the temperature starts decreasing rapidly, houses at some locations become inhabitable.
In case you need to evacuate with your family, you should have an evacuation plan in place.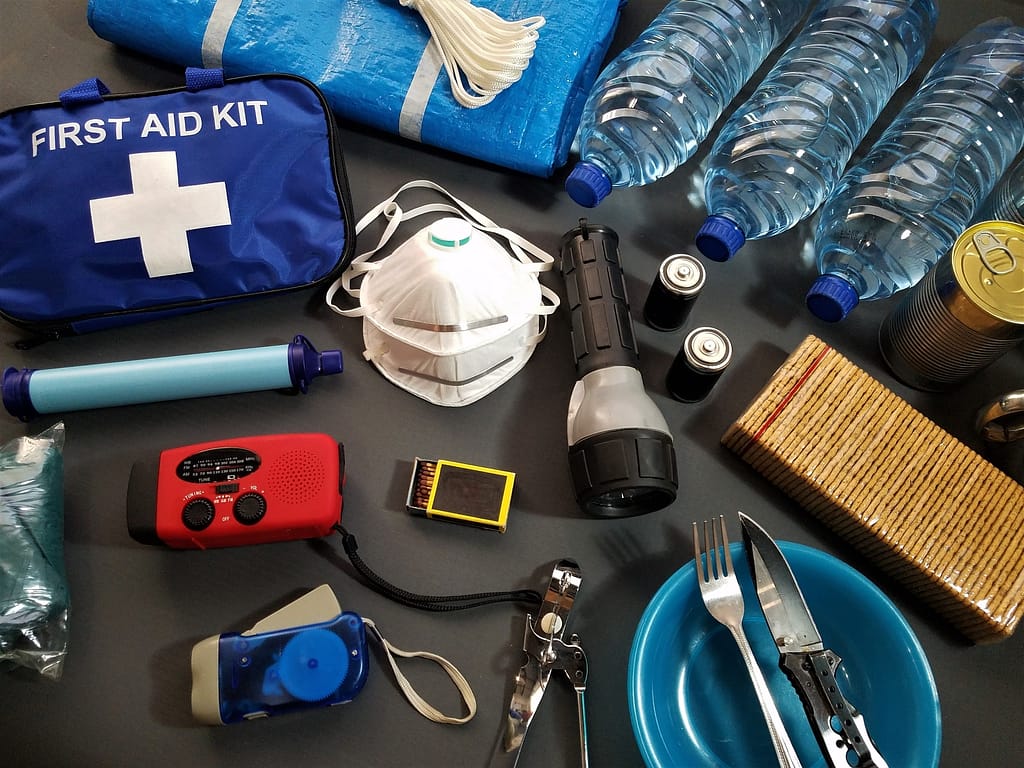 When you plan to evacuate, you must
Turn off the main breaker, circuit breaker panel or power supply box.
Turn off the water main and drain water from the system; open all taps, flush several times, open the drain valve in the basement, and drain the hot water tank into the floor drain. If you have a gas heater, turn out the pilot light.
Unhook the washing machine hoses and drain.
Add a small amount of antifreeze to water left in toilet bowls and sink/tub traps.
Clear valuables off the basement floor.
(Source: Government of Canada)
#Tip 5 Keep your home completely sealed
It becomes extremely challenging to generate and maintain heat in a power outage in winter. Needless to say, an open door is a huge gap in your home to lose precious heat fast. So be very careful when you need to go out. Immediately shut the door behind you as soon as you pass through. Avoid lingering, and never leave it open.
Along with that, you can lose heat from gaps around and under windows and doors. You must seal every minuscule gap as soon as you can.
#Tip 6 Utilize home generators
Home generators are efficient for backup electricity in case of an outage. Given the situation that they are used in accordance with the manufacturer's guidelines.
It is possible that a back-up generator may only be connected to your home's electrical system through an approved transfer panel and switch that has been installed by a qualified electrician.
Never plug a generator into a wall outlet as serious injury can result when the current produced by the home generator is fed back into the electrical lines, and transformed to a higher voltage. This can endanger the lives of utility employees working to restore the power.
To operate a generator safely:
Follow the manufacturer's instructions.
Ensure that the generator operates outdoors in well-ventilated conditions, well away from doors or windows, to prevent exhaust gases from entering the house.
Connect lights and appliances directly to the generator. If extension cords must be used, ensure they are properly rated, CSA-approved cords
#Tip7 Know what to unplug if the power goes out.
As you're preparing for winter storm power outages, don't forget your valuable appliances and electronics. When the power comes back on, your home's electrical system could experience surges that could damage them. One way to protect your devices is to unplug all the appliances and electronics in your house. If you don't want to unplug everything, make a plan to unplug anything with electronic or computing components, including the following:
Desktop and laptop computers
Televisions
Gaming systems
Microwaves
Appliances with advanced technology (for example, some modern washers and dryers)
And remember: Wait for consistent electricity to be restored before plugging them back in.
After the Power Outage
#Tip 7 Look for broken or damaged piping.
Power Outages affect the pipeline of your home significantly.
Since there's no power, there will be no heating (or comparatively less heating). Because of that, some water pipes in your home can freeze. Some signs of water pipe damage are pooling water under pipes; water damage on walls, floors or ceilings; low water pressure; and faucets that don't work at all.
If you find any of these signs around your pipeline areas, then you must If you must turn off the water at your home's main shut-off valve. And next step is to call a plumber right away.
Furthermore, you can also warn up the frozen water pipe with warm air from a blow-dryer, starting at the faucet and working back along the pipe.
However, DO NOT use an open flame on pipes to thaw them. (We repeat, NEVER!)
#Tip 8 Replenish your emergency supplies.
One of the most important tips for winter power outage survival is to be ready for the next power outage.
As soon as things get back to normal, you must replace your used emergency kits to new ones (Especially foods and bottled water).
Also, refuel your generator and vehicles, used batteries and other components of your survival kit. Repair damaged or non-working equipment.
In that way, be ready to deal with the next power outage. I
#Tip 9 Maintain your distance from power lines.
Generally, after the storm or the outage, there is a chance that you might find several downed or damaged power lines.
In that case, you have to be very cautious, as some of these downed lines can be live even if they're not sparking or making any sound.
As the voltage in the ground is very high at the point of electrical contact but it reduces as you move farther away (Just like the ripples effect). At around 10 metres, the voltage drops to zero, and that's the reason we recommend staying at least this length away.
If you come across a downed or damaged line, follow these steps:
Stay back at least 10 metres (33 feet). That's about the length of a city bus.
Dial 911 and let them know that a power line has fallen or is damaged.
Keep others in the vicinity at least a bus length away.
Conclusion
As the famous saying goes,
"Prevention is better than the cure,
We hope these tips and tricks prepare you for the winter power outage. Furthermore, when you know the in and out of handling a winter electrical emergency, you can make a big difference. And, for technical and complex electrical repairs, we are here for you. You can contact us here!